BEAR PAW CAMPGROUND
Bear Paw Par 3 Golf Course & RV Park features 43 RV Sites, perfect for those weekend family escapes, for tourists visiting the Grande Prairie area, and for ball players playing in local softball tournaments at the South Bear Creek Ball Diamonds.
We are located close to many City amenities, including the Muskoseepi Park trail system & Eastlink Centre.
All RV Sites include individual fire pits and picnic tables, up to 15 feet of trees between most sites to offer privacy from neighbouring sites, free bathroom and shower facilities just a short walk away at the South Bear Creek Pavilion, two sani-dump stations to empty your RV holding tanks after your stay, and access to the Bear Paw Golf Course & Driving Range.
RATES:
Power/Water NIGHTLY
RATE
Power/Water WEEKLY
RATE

MONTHLY RATE

$37.00
$240.00
NO long-term camping is permitted in Bear Paw or Nine of Diamonds campgrounds.
*BEAR PAW Campground – features 15 Sites with 30Amp Power and Water hookups.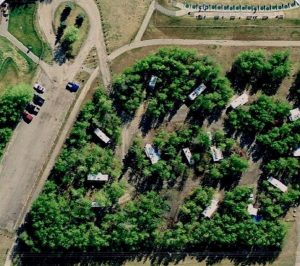 *NINE of DIAMONDS Campground – features 20 sites with 20Amp Power and Water hookups.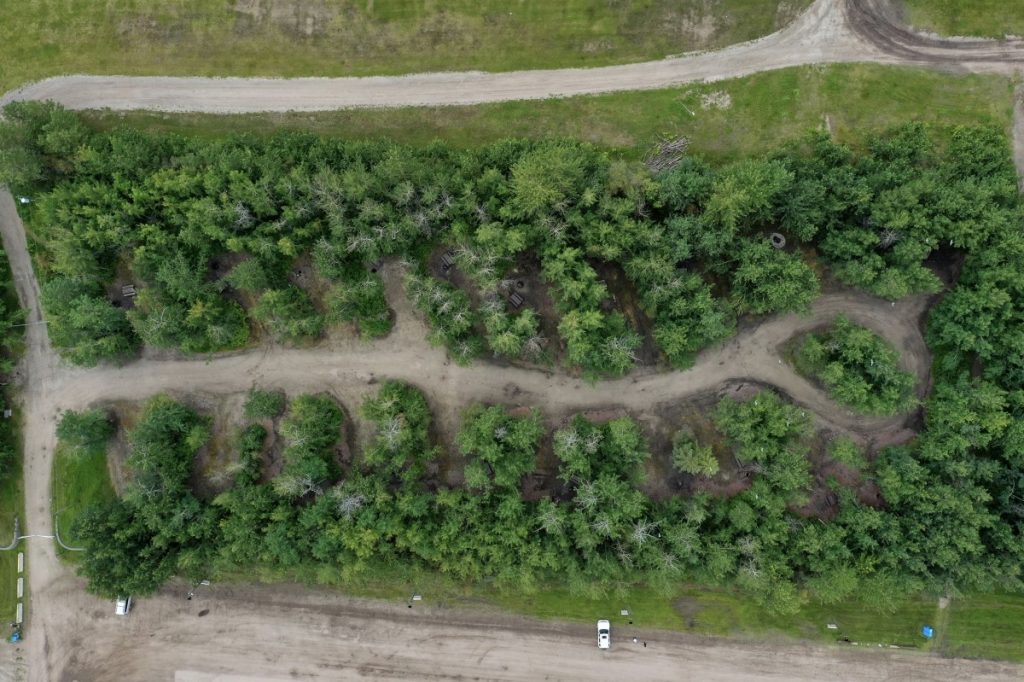 No Services NIGHTLY
RATE
No Services WEEKLY
RATE

MONTHLY RATE

$30.00
$195.00
NO long-term camping is permitted in the Wilderness campground.
*WILDERNESS Campground – features 8 sites (1 double site) with no services hookups.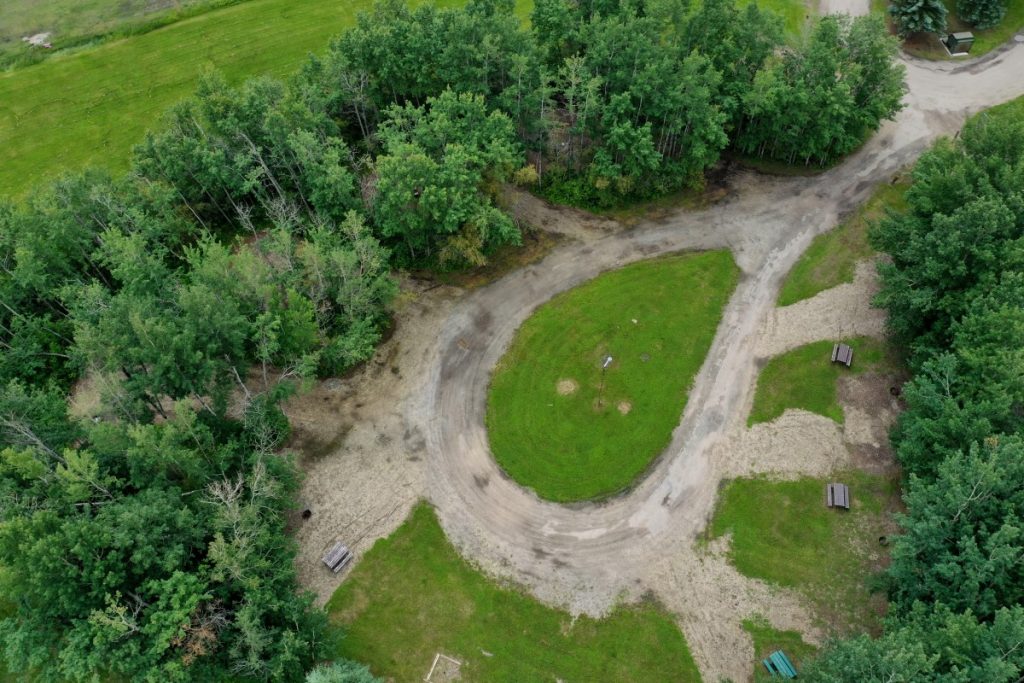 To Book your RV Site(s)
Phone: 780-402-8777
E-mail: 
BearPawGolfandRV@gonitehawk.com

LOCATION:
6325 – 100 Street
Grande Prairie, AB
GPS Coordinates:
55.1389942, -118.8030964, 847m
---
COVID-19 Update – July 1, 2021 – RV Park
Guest Responsibilities (Code of Conduct): As of July 1, 2021:
This information constitutes a Code of Conduct.
All overnight guests and day use visitors are responsible for their own health and wellbeing, and are required to follow COVID-19 signs and protocols at all times.
Persons displaying any symptoms of illness will not be permitted to stay overnight.
The person making the camping reservation is responsible for ensuring that all members of the household are aware of the COVID-19 protocols in place.
2m (6ft) physical distancing must be respected in all areas of the RV Park, unless guests are from the same household.
No group gatherings of more than 50 people in any area are permitted.
Guests are encouraged to stay in their own camp site unless using park amenities.
Your own soap, water and hand sanitizer to use after using high touch surfaces in the RV Park is recommended.
A sheet or table cloth for your picnic table is recommended.
Campground Operations:
Some campsites may be closed to ensure physical distancing (e.g. double sites).
Minimal contact for registration and check in is in effect. Payments can be made by email transfer to accounting@gonitehawk.com or by pre-authorized credit card and receipts can be emailed. Prepaid reservations are required at all locations. Please call Nitehawk at 780.532.6637 or Bear Paw at 780.402.8777.
Enhanced cleaning procedures of high touch surfaces will be in place.
Sites will only be rented to recreational vehicles which have their own functioning toilet, shower and holding tanks. No Tent camping is allowed.
Open: showers & public washrooms, garbage, sani-dump (where provided), non-potable water.
Closed: playgrounds & group shelters.
Out of Province Guests are permitted:
Same or lower incidences of COVID-19 in BC & Saskatchewan as in Alberta.
Group camping is not permitted at this time:
Does not support the requirements to maintain 2m (6ft) physical distancing.
Campground Rules
12 Easy Rules to Abide by:
1. Check in is any time after 2:00pm. To check in, please call the Bear Paw Clubhouse, before pulling into your site, to ensure the site is not already booked by another camper.

2. Payments must be made in advance. Failure to do so will result in a $37 fee being added onto your account. A valid credit card is required on file at the time of booking.
3. Clean up after yourself and leave the site ready for the next guest. Do not leave garbage in the fire pit when leaving the site; please take it to the trash bin.
4. Bears do occasionally find their way into the area – please use bear proof garbage bins. Do not burn garbage in fire pits or leave food out at night, including pet food.
5. To comply with health regulations, all sewer and grey water needs to be emptied into the sani-dump stations located at the end of the road near the Nine-of-Diamonds Campground past the Beach Volleyball Courts.
6. Be courteous and respectful of others. Turn music off and talk quietly. Quiet time is between 11:00pm & 8:00am (no exceptions)
7. Maximum of 2 vehicles in each site, parked on gravel pads, is permitted – use parking lot for visitors. Commercial vehicles over 1 ton and towed equipment must use parking lot.
8. ABSOLUTELY NO FIREWORKS allowed in the RV Park due to fire hazard and city fire regulations.
9. ALL Pets must be quiet, kept on a leash at all times and cleaned up after.
10. No TENTS allowed in Campground (including in sites with trailers). The City of Grande Prairie has a no tenting policy that is enforced by City Enforcement Services.
11. Speed limit in the RV Park is 10 km/h. Please watch for children.
12. Absolutely NO tree cutting or brush removal is permitted. Firewood is not supplied. It is suggested that campers bring their own firewood or purchase it by the bundle from the Clubhouse for $10.00/bundle.
 *Check out time is at 11:00 AM.
CANCELLATION POLICY:
A $10 cancellation fee applies. The $10 reservation fee is non-refundable.
Camping fee refunds are determined by the notice provided:
If three days (72 hours) or more before 12:00 pm on the scheduled day of arrival, all camping fees are refunded.
If two days (48 hours) or more before 12:00 pm on the scheduled day of arrival, one night's camping fee is forfeited.
If less than 48 hours but more than 24 hours notice before 12:00 pm on the scheduled day of arrival, two nights' camping fees are forfeited.
If less than 24 hours notice, no refund available.
There is no additional cancellation fee or penalty.
Camping fee refunds must be applied to the card used for the original transaction and will be processed within five business days. 
Please Note: Refunds are not provided outside of the above criteria or for advisories including inclement weather, ground/site conditions, water quality, air quality, wild animals, insects/pests, fire bans, liquor bans, car trouble, getting lost or evictions.